Past Events — WDC at the Plymouth demonstration, October 31st 2009
Photos and text by Jill Beauchamp
I expected the march and rally to be a standard CND event. What I experienced was quite different. The rail journey was an epic pilgrimage as we travelled down to Plymouth, trundling on and off coaches and trains as they became available. Our arrival in Plymouth and rendezvous with other CND groups was assisted by helpful citizens. The CND gathering was the usual entertaining carnival of tasty delights, of leaky leeks and a stunning Hallowe'en bride. Amongst the guests were an Iranian film crew. They had been commissioned by the Iranian TV company to report on the variety and strength of British dissent and opinion on the UK's military/nuclear armament industry. The Iranian journalist was cognisant with the offcial policies of the NPT Treaty but he was also concerned that the opinions and concerns of ordinary people should be known in Iran.
As we marched through Plymouth I was made aware of the lack of visible support by the locals for their CND group. All this took a strange twist and turn as Joanna and I were waiting for our return train. Our unfurled banner was recongised by two taxi drivers and its message was positively endorsed by them. From their response we sensed an encouraging swell of support that the local group could connect with.
---
The Wimbledon CND banner travels all the way to Plymouth city centre.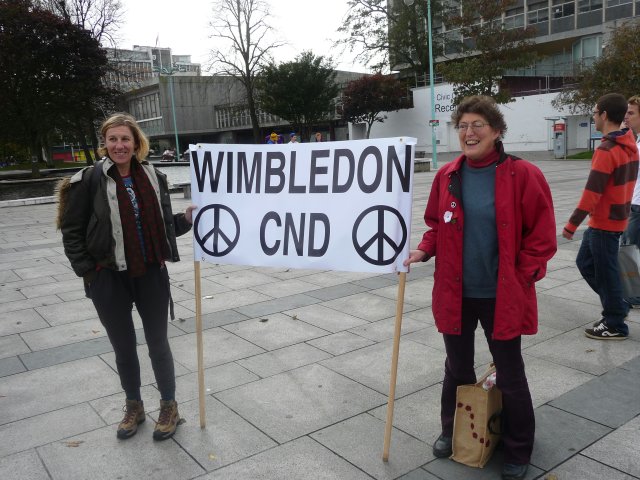 ---
Joanna Bazley is interviewed by ITV Southwest, a local television station.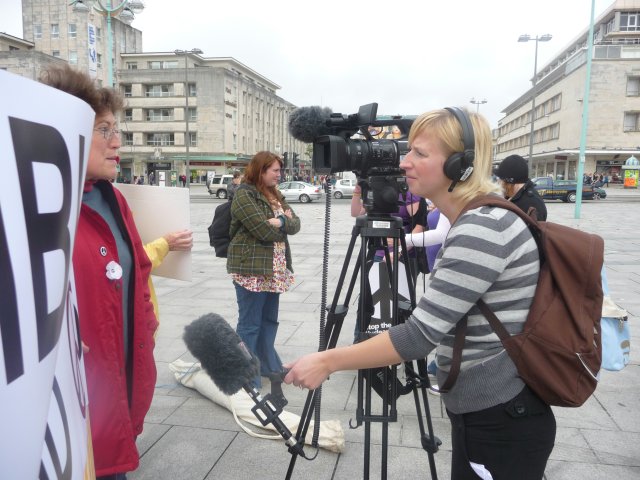 ---
A bride makes a point.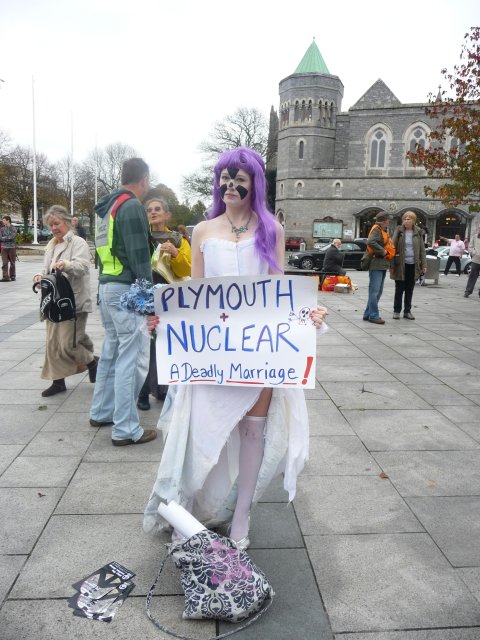 ---
Rae Street addresses the rally overlooking Devonport docks.
---