No to New US Nukes!
To those of my 60+ generation: here we go again, Friends. To those much younger, we need your energy, creativity and determination to address the multiple crises of our time. We share the dream of a Just, Peaceful and Sustainable future with no one left behind, articulated in the UN Charter and endless declarations and Treaties since. But the governments which sign the documents implement only what suits them; this is as true of our relatively free world as of the authoritarian.
The UK government has now announced that storage facilities for a modernised range of American nuclear weapons are to be built at Lakenheath in Suffolk and a number of other sites in Europe. The information reached CND via Hans Kristensen, Director of the Nuclear Information Project at the Federation of American Scientists. He believes that one nuclear-capable fighter plane — the F35A — has already arrived, with a total of twenty-four expected.
The Lakenheath demonstration which CND organised for 21st May will doubtless be the first of many. At a time when Climate Change and Palestine get the mass turnouts, we need public pressure like that of the 1980s to change the direction of our decision-makers. It won't be easy, but as Tom Unterrainer said on a recent CND webinar, the risks and dangers posed have never been greater.
Perhaps the general public are not the only ones in need of a wake-up call on the nuclear danger we've all lived with for decades. We hear all about Putin's aggression and veiled threats of nuclear escalation. Are we aware that it is NATO, not Russia, which actually has a policy to "escalate to win"? I wasn't. And, while we probably all remember the Reagan-Gorbachev affirmation that a nuclear war can never be won and must never be fought, are we also aware that NATO has consistently refused to adopt a No First Use policy?
In November, eight current or former UK parliamentarians from NATO states co-signed a letter to President Biden and the US congress urging them to universalise No First Use. The Ban Treaty parties hold their first meeting on 21–23 June. Let's do all we can to publicise and support these straws in the wind.
Alison Williams
Lakenheath Demo Report
Saturday 21st May, 2022: the sun came out and we had a good turnout for this demo, the first one I have been on since the pandemic. I met a fellow campaigner on the coach, a pleasant young man called Alex who comes from Cornwall and seems to be a full-time protestor on a number of issues, very dedicated.
I had never been to Lakenheath before, a huge RAF base partly occupied by the USAF who are threatening to bring nuclear weapons back to the base — they were banished along with Cruise Missiles in the 1980s.
We had a marvellous choir singing old and new songs outside the base, and I joined in on two of them. The Anthem of CND from the 1950s/1960s, John Brunner's words to an old hymn tune 'Life Is Like A Mountain Railroad (Life's Railroad To Heaven)' which in turn became a union song 'The Miners' Lifeguard'. I know all the words to the CND version sung on the Aldermaston Marches, 'The H-Bomb's Thunder'. A new song to me was 'Trident, Trident' to the tune of 'Daisy, Daisy' but I had a songsheet.
Kate Hudson, General Secretary spoke first, then introduced many other speakers including David Webb, Chair of CND, and a doctor named Robert who now lives in Switzerland and who was on the first Aldermaston March aged just 15 in 1958. I was on my first CND and Committee of 100 demos in 1961 aged 16 and never thought I would still be campaigning against nuclear weapons over sixty years later.
I took a lot of photos and recorded the choir and me singing the two songs and posted them on Facebook. It was a successful demonstration and there will be more even larger if nukes do come back to Lakenheath.
Tony Papard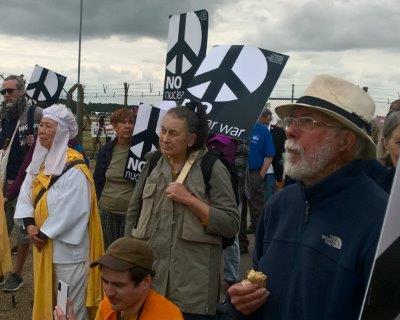 ---

Nuclear Convoys
In March, CND held a webinar to discuss the nuclear convoys that regularly roll along our roads putting communities at risk. The speakers were Juliet Macbride of Nukewatch, Councillor David Blackburn, chair of Nuclear Free Local Authorities (NFLA), and Rob Edwards from The Ferret, an award-winning investigative journalism cooperative. The meeting was chaired by Kate Hudson, General Secretary of CND.
Nukewatch is a group of individuals who have been monitoring and tracking the movement of British Weapons of Mass Destruction from Aldermaston in Berkshire to Coulport on the West coast of Scotland since the 1980s. Convoys can consist of up to 25 vehicles, but no radiation warning symbols are carried and neither the public nor local authorities are warned of their approach. The local police are sometimes informed, but usually at very short notice. Nukewatch is always looking for volunteers to give them information about the convoys. If you spot a convoy while travelling in the Midlands, or indeed anywhere on the road network, please contact 07824 140058.
David Blackburn spoke of his commitment to Nuclear Free Local Authorities, the first of which was in Manchester in 1982. NFLAs are opposed to nuclear weapons and civil nuclear power, and champion renewables. Nuclear convoys are potentially at risk from accident or terrorist attack that could lead to significant loss of life, and each local authority should have a community risk register which is renewed each year. In his capacity as NFLA chair, he is going to write to all local authorities and monitor the responses. He's also very supportive of local groups like ours trying to get their local authority to join NFLA.
Rob Edwards is a journalist on the Ferret. Established in 2015, they are always looking for new subscribers: https://theferret.scot/ . He mentioned some of the 180 safety incidents between 2000 and 2016 that were all described by the MOD as minor. They included collisions, breakdowns, leaked fuel, getting lost and brake failure and were put down to bad luck, human error and software malfunction among other things.
At the moment, campaigning on the situation in Ukraine is taking priority over issues such as this, but we should contact Merton and Wandsworth Councils to see what is in their risk register and whether nuclear material passes through our area, so that we can understand what is happening locally and the authorities' response to it.
Ruth Crabb
Bishop of Coventry's opposition to nuclear weapons
It is encouraging when a senior member of the Church makes plain their opposition to nuclear weapons. This was the case in March this year, when the Coventry Meeting facilitated the publication of an excellent speech by Christopher Cocksworth, Bishop of Coventry, in the Quaker magazine The Friend (25th March). With the Bishop's permission, we present here some extracts from his speech.
He emphasises the myth of nuclear deterrence, especially in relation to the current situation in Ukraine which is "only succeeding to uphold peace for some — us in the West — at the expense of peace for others — Ukraine, for example. That is no peace at all. Sooner or later deterrence between nuclear powers themselves will fail and we are closer to that catastrophe today. I long for a world without nuclear weapons, without nuclear 'deterrence' that does not work the way we'd like it to".
We know that there have already been many more near-misses than governments want to acknowledge and he makes that point very clearly: "…one day, an error of judgement, or a miscalculation will get the better of us". Continuing, he is concerned that "there are those who seek to use nuclear weapons tactically in a war. Russian nuclear doctrine, it pains me to say, leaves plenty of room for this kind of 'limited' or 'battlefield' nuclear weapon use and a desperate Putin might be tempted to pursue this". His final observation on the issue of deterrence is that "the possession of nuclear weapons and specifically their use as a deterrent is morally unjust. It is immoral to threaten what it is immoral to do".
It is heartening to read about his support of the TPNW, and he concludes "we must pursue the total elimination of nuclear weapons. One nuclear weapon is too many. Coventry is a reminder to all of us that peace does not merely exist — it must be made. Let us commit to actively building peace after Ukraine, and to decisively tackle the nuclear weapons and doctrines which would stand in our way, once and for all". We all endorse that.
---
Don't Bank on the Bomb
CND — as part of the Investing in Change network alongside other organisations, https://investinginchange.uk/ — is challenging companies on their nuclear investment. In this connection, we sent a letter to our Bank, the Wimbledon branch of NatWest, signed by our Treasurer Ruth Crabb and Membership Secretary Alison Williams. A copy was also sent to the CEO of the Bank.
In summary, the letter asked how the Bank could justify making large profits from weapons of mass destruction, especially now that nuclear weapons have been banned under the UN TPNW. A reply was received from the CEO of NatWest, Alison Rose, in which she stated that the Bank is not involved in financing companies producing components for nuclear weapons outside NATO countries. This then begs the question (included in Ruth's reply) do they provide banking service for companies producing nuclear weapons components within NATO? We await a further reply.
If you know that your bank is investing in companies producing components for nuclear weapons and would like to use the group letter as a template to write to them about disinvesting, please get in touch with Alison Williams (alisonwilliams36@btinternet.com) or write to her at 11 Wilberforce House, 119 Worple Road, London SW20 8ET.
London Region CND Events
Stop US Nukes coming to Lakenheath! London CND had responsibility for this event and the regular meeting of London Groups on 9th May discussed ways and means of encouraging participation and making a splash in the media. Coordinator Julie Saumagne hopes we'll pull out all the stops in creating imaginative messages, banners and items to tie to the fence. A veteran of the Greenham Common camp remembered teddy bears and other personal items there touching hearts and minds.
There will be a private viewing of the collection of posters related to nuclear disarmament at the V&A on Thursday 9th June 2–4pm. 25 places were on offer for London CND members at this event: a tour led by Archivist Zorian Clayton following an introduction by artist Peter Kennard. With luck, some of you got the information via email and acted before the tickets were all gone.
Local Elections 5th May 2022
Merton: congratulations to WDC/CND member Caroline Charles who was elected as a Labour Party Councillor in Ravensbury Ward. Well done, too, to Alex Forbes, also a group member, who stood for the Trade Union and Socialist Coalition (TUSC), and polled well in Cricket Green ward.
The Labour Party were returned as Merton council's administration. Proposed new Leader is Councillor Ross Garrod, who represents Longthornton Ward in Mitcham, with Cllr Eleanor Stringer, who represents Wandle Ward in Wimbledon, proposed as his Deputy Leader.
It remains to be seen if any of the newly-elected cabinet will be open to adopting a motion in support of the TPNW, so that Merton becomes a Nuclear Ban Community. We will be working on that one!
Wandsworth: we have some members in Wandsworth Borough which is now Labour- controlled for the first time in more than 40 years, so we will be resuming our Nuclear Ban Community efforts there also.
Annual General Meeting 2022
Please make a note that the Wimbledon Disarmament Coalition/CND AGM will be held on Sunday 17th July 2022, 12·30–3pm. At the time of writing, the venue has not been confirmed, but we will let you all know in plenty of time once it's finalised. Thank you.
Sheila Knight Memorial Event
Delayed due to the pandemic, this first Memorial Event is finally taking shape. As listed in the last edition of the newsletter, it will take place on Friday 14th October 2022, from 7·15 to 9·30pm. Please do make sure that the date is in your diary.
The evening will start with the film "When the Wind Blows" by Raymond Briggs. Invitations will be sent to the many organisations with which Sheila was associated, including Mitcham & Morden and Wimbledon CLP, Quakers, Springfield Law Centre, and Merton MIND. If there are any members who remember Sheila from other organisations, please do let us know by emailing alisonwilliams36@btinternet.com.
---

Return to Newsletter index