COMMENT
Edwin's Purple File (and other thoughts)
Edwin Cluer writes: "I'd like to recommend for the things like writing to M.P.s, the press etc. something I have kept for probably more than ten years. I put into the file (which happens to be purple) anything significant or particularly interesting or relevant: things I read in books, newspapers, ideas I have, quotations from important people, the best leaflets, how areas of concern relate to and connect to each other, statistics, arguments, information — the lot.
"It is of great importance to record reference (where we read something, the date etc.) and I wish I had been more thorough with this. It's delightfully efficient to be able to immediately know, say, that it was Lord Mountbatten (in a speech in May 1979 in Strasbourg) who came up with the idea that 'since the threat to humanity is the work of human beings, it is up to man to save himself from himself' — rather than not remembering which book, page number or who said what or when."
And Harriet adds:
"This applies equally to the Internet. Even e–mails will disappear into the depths of your inbox and prove very difficult to retrieve when wanted if you fail to file them into an appropriate folder when received.
"It is also necessary to be aware that there are a lot of wildly inaccurate claims to be found on the Internet and so it always pays to double-check the sources for any 'fact' you read on the Web, as well as recording the original URL of the page in question. Beware of 'urban legends' which attain the status of fact simply by virtue of being repeated by those who would like them to be true.
"In the case of Facebook in particular it's never wise to 'like' articles forwarded by well-meaning friends without actually reading them. (One might think this goes without saying, but it's quite common for people to forward material without having read beyond the original headline!)
"The Internet is undoubtedly a useful source of information, but it is also rife with conspiracy theories, propaganda, distorted data and biased opinion. We all need to be wary and consider the origins of what we read before placing faith in it."
Wise words from both!
---
Scientists for Global Responsibility
SGR is an organisation of scientists, architects, engineers and technologists 'promoting ethical science, design and technology': a successor organisation to SANA (Scientists Against Nuclear Arms) from the 1980s.
Their 25th anniversary conference on 28th October features two main speakers:
Andrew Simms of the New Weather Institute who will speak on Climate Change ("Can we make the rapid transition necessary? History suggests that we can — once we understand and accept the necessity of action")
and Dr Philip Webber (SGR Chair) who will speak on "Transforming the security agenda: lessons and hope for the future". Phil Webber writes:
"Currently the world appears to be stuck in several old security dead ends.... There are no obvious signs of acknowledging past mistakes let alone learning from them. But despite this I will argue that things could change for the better soon. I will draw upon a range of evidence — and some personal experience as an emergency planner — of how apparently fixed positions within the established security order can prove vulnerable to change from unexpected quarters." A positive message which we all need.
Saturday 28th October 13·00–17·15, The Gallery (Alan Baxter Ltd), 77 Cowcross Street EC1M 6EZ.
Registration online at: http://www.sgr.org.uk/events/creating-better-world
CND Conference, Oct 14th–15th
Conference this year will be held at the Arlington Conference Centre, Camden, and will once again take the form of an International Conference (open to members of the public) on Day 1 with CND AGM and Policy Conference on Day 2. "Confrontation or Co-operation? Nuclear abolition in dangerous times": the theme could not be more relevant. Further details from the conference website: http://www.cnduk.org/conference
Registration deadline is 6th October for the Policy Conference, but later applications will be accepted without voting rights. Registration for the public conference is on http://cndconference.eventbrite.com with no deadline.
---
Please support our Barn Dance on November 3rd, held jointly with St Andrew's Church to celebrate the life of our great friend Rev. Andrew Wakefield who died so sadly and suddenly almost twelve months ago. The money raised will go to Médecins sans Frontières (Doctors without Borders), an emergency medical humanitarian aid organisation which helps people affected by armed conflict, epidemics and natural or man-made disasters "without discrimination and irrespective of race, religion, creed, gender or political affiliation". MSF doctors are currently working in more than sixty countries (including places where others cannot or choose not to go) and they are able to do this because they are independently funded with ninety per cent of funding coming from individual donors.
Andrew Wakefield was a loyal supporter of WDC/CND, sometimes standing with us on our Friday Vigil for Peace (and always apologetic that his other community activities prevented his joining us more regularly), and attending our annual Hiroshima candle-floating ceremony at Rushmere on Wimbledon Common, where he regularly spoke. He was a happy man with a great zest for life, and a dance seems an excellent way to commemorate him.
The church congregation is organising the ploughman's supper and WDC/CND has been asked to contribute cakes and cold desserts. Please get in touch on 020 8543 0362 if you can help, and please book your tickets. £10 represents excellent value for an evening's entertainment and the catering team does need to have a clear idea of numbers in advance.
St Andrew's Church in Herbert Road is rather tucked away 'behind the houses' but it is within easy walking distance of the public transport hub of central Wimbledon. Parking in the area is severely restricted: the Bridge multistory car-park in Hartfield Crescent is the nearest.
World Leaders at the UN
Dozens of countries signed the new treaty to ban nuclear weapons when it opened for signature on September 20th, although the US, UK, France and other nuclear weapons states boycotted the event at the annual gathering of world leaders. The new treaty will enter into force ninety days after 50 countries have ratified it, and the Holy See has already made history by being the first state not only to sign but also to ratify. (As Bruce Kent says: "Never forget that the Pope is on our side!")
"There remain some fifteen thousand nuclear weapons in existence. We cannot allow these doomsday weapons to endanger our world and our children's future," said UN Secretary General Antonio Guterres as he opened the ban treaty for signing.
"A strong new international norm can lead to concrete change in policies and behaviours, even in states not party to the treaty," says Dr Rebecca Johnson of ICAN†. Let us hope that she is right.
† International Campaign to Abolish Nuclear Weapons
Art the Arms Fair and DSEi Protest
The Campaign Against the Arms Trade deserves huge congratulations for the scale of the protests against the DSEi arms fair in September. Protesters flocked to Docklands in far greater numbers than ever before and significantly impeded the arrival of military equipment during the preceding week in multiple and creative ways: over 100 arrests were made for 'obstruction'. whether it took the form of holding a prayer meeting in the middle of the road, abseiling from a bridge or holding a Mad Hatter's Tea Party.
A new departure this year was the wonderful and inspiring Art the Arms Fair, the brainchild of Sam Walton. The final display in a gallery near East India Dock was extended to include a lively programme of evening entertainment with professional musicians, speakers, poets etc. all giving their services free. A new work by Banksy ensured the commercial success of the auction on the final day: it sold for £205,000!
We were proud that Edwin was asked to contribute some of his artwork to the exhibition. With Auriel's help as photographer, some of his hand-painted display boards were turned into professional prints which sold for £30, with copies also being sent to the Peace Museum in Bradford. Many of us had stitched or knitted Linda's 'white poppies for peace', and these looked very fine when assembled and mounted. This display is now on its way to the Westminster Friends Meeting House in St Martin's Lane where it will be re-installed and displayed once more (along with some of the other Quaker artworks) until the end of the year.
Joanna
Death of Stanislav Petrov
It was good to see the mainstream media paying a certain amount of attention to the recent death of Colonel Stanislav Petrov, who used his common sense when early-warning alarms went off in a secret command centre outside Moscow on the morning of September 26th 1983, during one of the tensest periods of the Cold War. Computers warned that five Minuteman intercontinental ballistic missiles had been launched from an American base, but after five nerve-racking minutes Col. Petrov decided that it was probably a false alarm.
He later explained it was a gut decision ("at best a 50–50 guess") based on his distrust of the new early warning system and the fact that only five missiles had reportedly been launched when he had been told that a nuclear first strike would come as an overwhelming onslaught. "There was no rule about how long we were allowed to think before we reported a strike but we knew that every second of procrastination took away valuable time, that the Soviet Union's military and political leadership needed to be informed without delay. All I had to do was to reach for the phone — but I couldn't move."
In the interrogation that followed he was asked why he failed to record everything in his logbook. "Because I had a phone in one hand and the intercom in the other and I don't have a third hand," he replied. He received a reprimand.
Petrov noted, perhaps significantly, that he was the only officer around that day who had received a civilian education. All the others were professional soldiers who Petrov believed would simply have reported the attack at face value, having been "taught to give and obey orders".
In the current stand-off between Donald Trump and North Korea technical malfunction and human fallibility almost certainly pose greater dangers than calculated military attack by either side. Nuclear weapons keep none of us safe but threaten the world by their very existence.
Letter writing
Many years ago some of us were members of CND's national 'Press Gang', sending letters on a set theme to persons of influence every month with all facts carefully researched and footnoted by Anna Rehin. After Anna's retirement the scheme folded and to a certain extent has been overtaken by the rise of social media. But there is still an important rôle in our campaign for letters to the press, especially of the 'rapid response' variety. Georgia (new London Region groups coordinator) is hoping to set up a pilot project in London which if successful can be extended to the rest of the country, and I have been involved in preliminary discussions.
We are inspired by Bruce Kent's passionate advocacy of the scheme which he regards as the simplest, most effective way of countering the pro-nuclear bias of the majority of the newspapers. It is rarely overt: just the unquestioning assumption that nuclear weapons ('the deterrent') keep us safe. Many of us pick up London's two freebies (the Metro and Evening Standard) when we travel on public transport, plus the local Wimbledon Guardian. It does not take long to fire off a quick e-mail when you get home, more a question of getting round to it.
I have been writing much more regularly since my conversations with Georgia and have managed to get at least one letter (heavily edited) into the Metro, in response to an alarmist paragraph comparing Kim Jong-un to Hitler. Even unpublished letters will be read by the editorial staff.
Joanna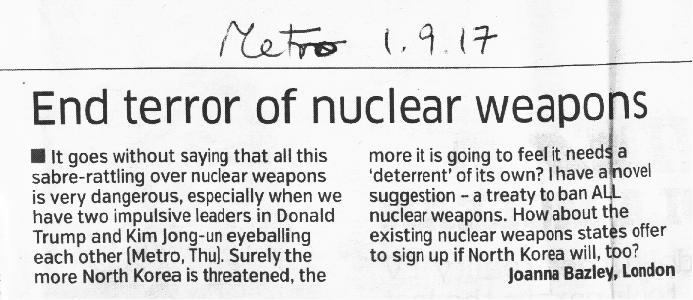 ---

Return to Newsletter index