Nuclear Power
On Wednesday May 11th we have the opportunity to discuss the pros and cons of nuclear power with Dr Ian Fairlie, an independent consultant on radioactivity in the environment. He has degrees in chemistry from the University of Western Ontario and in radiation biology from St Bartholomew's Medical School, followed by a PhD at Imperial College London on the dosimetric impact of nuclide discharges at Sellafield and La Hague: an expert indeed. He has worked on occupational health issues for the TUC and as a radiation adviser to Greenpeace, and sat on the CERRIE† Committee set up by the Government in 2001 following concerns about the risks of internal radiation (the uncomfortable conclusions of which were largely ignored).
† Committee Examining Risks of Internal Radiation Emitters
Media discussion of radiation danger concentrates on the data obtained from Japanese survivors of the atomic bombs of 1945 (i.e. the effects of sudden blasts of powerful types of radiation) and tends to focus on short-term effects. Dr Fairlie's thesis is that this Japanese data is irrelevant for slow, long-term exposures or for the (more common) weaker types of radiation. For example, a recent German Government study found large increases in leukæmia and embryonal cancer among children living near all German nuclear reactors, but the 'risks' of nuclear plants are typically cited in terms of the outside possibility of catastrophic meltdown or terrorist attack.
Of course, as we have seen from recent events in Japan, and as we remember the 25th anniversary of Chernobyl, there can never be guaranteed safety in the operation of a nuclear reactor, whether because of human error (as at Chernobyl) or natural disaster (as in Japan) and our own authorities are at last beginning to question the advisability of continuing to site nuclear reactors on the unstable coastline at Dungeness in an era of rising sea levels.
The big unsolved problem of nuclear power is "what comes after". Scientists and engineers are currently grappling with the construction of a huge steel hangar at Chernobyl to enclose the rotting concrete sarcophagus which rests on the remains of the ruined reactor. Trawsfynydd in Snowdonia, grandly designed by Sir Basil Spence, was decommissioned when it became obsolete in 1991 and is still squatting amid the mountains beside its lake. High level nuclear waste must be isolated for at least 100,000 years and "deep geological repositories" are offered as the best solution despite the fact that no such places as yet exist. (In Britain all the nuclear waste generated since the 1940s is stored above ground at Sellafield.)
Events at Fukushima have encouraged some useful investigative journalism and interesting articles were published in the Independent (11th April 2011: "Britain's nuclear timebomb" on the stockpile of plutonium waste at Sellafield) and in the Guardian on April 25th on nuclear waste storage facilities ("Keep out — for 100,000 years. And what sign do you put on the door?")
With nuclear power being vigorously promoted as the 'green' answer to our energy needs (led by recent convert George Monbiot), it is up to us to inform ourselves about all sides to a very complex argument. Dr Ian Fairlie will present the case that "Nuclear Power is not the aswer to Climate Change" and answer any technical questions that we may have. Please make every effort to publicise the meeting as widely as possible by passing on the enclosed flyer to a friend or pinning it up at work, at church or on your garden gate.
Fête of the Earth
Saturday May 7th is our annual fund-raising sale which takes place at the Wimbledon Community Centre, St George's Rd (Sir Cyril Black Centre). Doors open at 11am but we shall be busy for several hours beforehand getting ready. Many of you will have received Maisie's phone calls and will have already volunteered to help.
Joanna's plants have been flourishing in the Easter sunshine so there should be a good display. We have had generous donations of books and bric-à-brac but we could do with more. Naseem guarantees to sell every home-made cake you can bake. Aden has promised his usual delicious Asian food, with more conventional fare prepared by Brigitte and Janet.
Please help with publicity in any way you can. Encourage all your friends, colleagues and neighbours to come for what will be a really good day out. This is always a thoroughly enjoyable social occasion and has become in effect Wimbledon's 'Green Fair' with lots of visiting stalls from other organisations. (And please note that we have avoided Cup Final Day this year!)
---
Mabel's 100th
On April 13th Mabel Cluer, our oldest member, celebrated her 100th birthday with her family, in the house where she has lived since she was married in 1946. Two days later she was present at a special Vigil for Peace at St Mark's Place where she stood for a whole hour surrounded by well-wishers from WDC/CND: a magnificent achievement.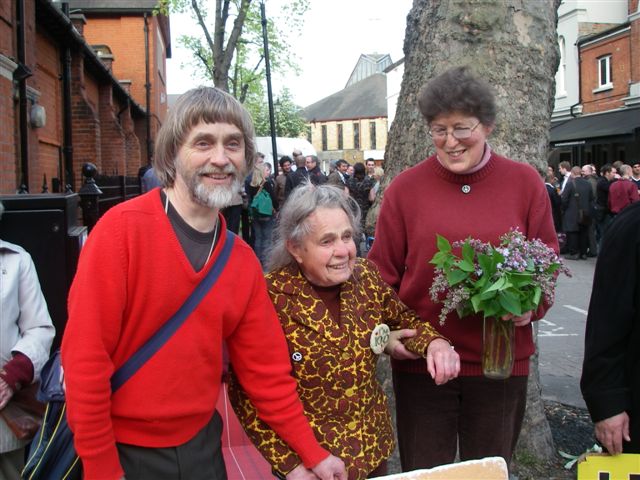 There was considerable interest from the local press and there are some lovely photos on our website. A few days before the birthday Mabel was interviewed by WDC/CND chair Maisie Carter:
Mabel's early memories included some of the First World War, when she remembers seeing wounded soldiers with amputated limbs and other injuries walking on crutches, but she saw it all through a child's eye and it meant little to her at the time. However, as she grew older and the world was once more engulfed in war, she began to realise how little politicians did to prevent the bombing, killing and maiming of civilians. Mabel feels strongly that more should be done to prevent despots coming to power; she believes that the United Nations Organisation should make a study of human psychology, starting with people's pride, conceit and abuse of power. All peoples should be free and no one dictator or nation should have power over others. She is sure that there is too much competition when the emphasis should be on cooperation and help for those who need it all over the world.

Her father's parents were worried when he became a vegetarian at quite a young age. They thought his health would deteriorate if he did not eat meat, but in fact it improved and he never looked back. Thus his family became vegetarians, and Mabel and her children are vegan. In 1946 Mabel married Alan Cluer, moving to Elm Walk, Raynes Park, where she still lives with Edwin, her son, who is a committed, active member of WDC/CND. Mabel's daughter Dilys lives in Scarborough and is a Green Party Councillor.

Mabel's reverence for life and her belief that all killing is wrong stems from her vegetarian philosophy. It also explains her lifelong commitment to peace, though she did not become involved in CND until Edwin and Dilys joined the movement against cruise missiles in the 1980s. She is strongly opposed to violence as a way of dealing with disputes; the conflict in Libya should be sorted out through mediation, stopping the fighting and starting talking, rather than through bombing which must result in more killings. Mabel's vision for the future is to see the abolition of Trident and all nuclear weapons, getting rid of war, working together on climate change and making the world a better place for all. I came away from this interview thinking that the world would indeed be a far better place if we had a few more -- perhaps a few million more -- Mabel Cluers in it.

Maisie Carter
(For the full text of this interview, see http://www.wdc-cnd.org.uk/Events/Mabel.html)
From Gang Culture to Horticulture
This poem was inspired by a resident of Mitcham who set up a gardening project for gang members to channel their energy into something more creative:
From gang culture to horticulture,
turning swords into ploughshares,
and spears into pruning hooks,
turning knives into secateurs
and bullets into slug pellets.
As they sing songs about their 'hoes'
as they wheel their wheelbarrows,
bragging, as all gardeners do,
about the size of their courgettes and marrows.
Bringing the earth back to life,
back to reality,
and keeping it real,
real food; working together,
cooking together and eating together.
Broken lives can be healed,
by growing together,
and working with the rhythms of nature.
Respect to Mother Nature!
Keith Spears
---
Beating the Bomb
The latest organisation to show interest in the DVD of this inspirational new documentary is the Justice and Peace group at St John Fisher church. Their declared aim is to educate and inform themselves to make themselves better campaigners and they have borrowed the film together with discussion notes prepared by Alison Williams of Merton UNA. Perhaps other groups might follow this example or perhaps people might like to organise a coffee morning for friends and neighbours. Get in touch.
Arms Trade in the Spotlight
The revolutions in North Africa and the Middle East are challenging authoritarian regimes and also challenging the UK government's approach to arms sales. Last year the government approved the supply of equipment including tear gas, crowd control ammunition and sniper rifles to Libya and Bahrain. Saudi Arabia used UK-made armoured vehicles to help crush pro-democracy protests in Bahrain. Ironically it was in the midst of David Cameron's arms sales tour of the Middle East that the Arab revolutions first erupted.
In September the government plans once again to support a massive arms fair in London. In 2009 Libya, Bahrain and Saudi Arabia were on the guest list, Israel exhibited its battle-tested weaponry and the Pakistan ordnance factories advertised cluster bombs in their literature.
The tide of public opinion is beginning to turn. The Campaign Against the Arms Trade wants as many people as possible to know what is going on and to make it as difficult as possible for the arms fair to take place. Next month on the 12th of June CAAT is organising a day of workshops and planning at Friends House, Euston, for an end to the DSEi arms fair and an end to the arms trade.
CAAT News, issue 220 (April/June 2011)
Palestine Solidarity Campaign
The visiting speaker at the Merton PSC meeting on April 18th described the Ecumenical Accompaniment programme in Palestine and Israel which sends international volunteers to offer protection through non-violent presence and monitor and report violations of human rights and international humanitarian law (contact eappi@quaker.org.uk for further information).
A letter from Japan
"I've been feeling depressed since the day of the earthquake, Tsunami and the nuke plant explosion. Especially the latter one is what we have been dreading to happen some day and it came true finally.
"Where do the people who were kicked out of the Fukushima nuclear site go and live? Not only they but also we who live on this island are sufferers, very hard to get safe water, vegetables, everything we need to keep living in safety. The governments we've had so far have been carrying on with the strong nuclear policy, and propaganda succeeded in making most of us believe in the myth of nuclear safety. Sad story!! Nuclear problems cost us far too much.
"This coming Sunday (April 24th) we're going to have another demonstration to demand the government change their policy and use safe energy. On Sunday two weeks before, we had one in two major cities with 17,500 protesters: 'Stop the operation of Hamaoka Nuke Plants' (Hamaoka is situated much closer to Tokyo than Fukushima and has been said to be much more dangerous as it stands on complex faults, covered by the Mt Fuji volcanic ranges, but the government hides the truth and is quite tough enough to try deceiving us).
"Mica [daughter] has a 1 year 4 month boy who she leaves at a nursery while she goes to work. She wants the nursery to use safe water (bottled water) for its kitchen. But as the government has given the 'go-sign' (this means 'safe enough') to all establishments the nursery is not happy at all to listen to the voice coming from the parents. She is in a dilemma: she wants to keep working but she doesn't want to leave her boy with the staff who are apathetic to the dangers of radioactive contamination....
"The governor of Tokyo [recently re-elected] has said that 'the victims of the earthquake and tsunami were in lack of religious reverence and they are paying for it'. He wants to build a nuke plant along the Tokyo Bay. Shame to have such a leader!"
[The writer lived in Wimbledon for several years in the 1980s and is a very old friend of WDC/CND.]
---

Return to Newsletter index