COMMENT by Joanna Bazley
I took a step back in time recently when browsing through a Lifeboat history† published 1981 picked up second-hand. The author concludes "It may not be too fanciful to envisage the ultimate task of lifeboats in the event of a nuclear war. It could conceivably be that of ferrying a few survivors to remote islands or other places believed to be still uncontaminated. Such a task, gruesome though it would be, would conform with all the best traditions of the Royal National Lifeboat Institution and those of the other lifeboat services of the world." This was the era of "duck and cover" (civil defence training) in US schools, "Protect and Survive" in the UK, Cruise Missiles at Greenham Common and my own entry into anti-nuclear campaigning.
Reading rubbish like this is in its way encouraging because it is a reminder that progress has been made. People just don't talk like this any more. Nuclear war is deemed unthinkable, and the best political argument in favour of nuclear weapons is that only by possessing them can we be sure that they will not be used: logic of a sort, but very dangerous and expensive logic and a guaranteed recipe for nuclear proliferation.
David Cameron was 'put on the spot' with questions from the great and the good in a recent issue of the Guardian (Guardian weekend supplement 26/11/2011). His flippant dismissal of Tony Benn was typical. "Under what circumstances, and against whom, would you be prepared to use British nuclear weapons?" asked Benn. Cameron replied: "As Tony Benn well knows, the point of having nuclear weapons is to deter people and not to use them, and I'm afraid it's just one of the many subjects where he is splendid to read but splendidly wrong."
It makes me feel very old, but I am afraid that the trouble with our present political leadership is that people like Cameron have no adult memory of 1981. They are conveniently able to forget that nuclear weapons are indiscriminate weapons of mass destruction with the capacity to contaminate huge areas with some of the most persistent poisons known to man. 'The deterrent' is for these people just a status symbol, carrying with it a ticket to the top table at the UN and a binding relationship with the US (to which our nuclear force is indissolubly tied). The Camerons of this world never pause to wonder whether other aspiring countries might want the same.
Despite the efforts of right-wing politicians and media to whip up hysteria over Iran, there is no general sense when talking to people on the street that threat of nuclear attack is uppermost on anybody's mind. Nuclear weapons are generally seen as irrelevant, and when people discover just how much money the government is preparing to invest in the new generation Trident they are shocked.
The trouble is that nuclear weapons aren't just going to fade away as do most irrelevant anachronisms. As we saw in the film 'Countdown to Zero' the ex-Soviet nuclear stockpiles are rusting and mouldering with minimal security, threatening the environment by their very existence and generating a thriving trade in smuggled nuclear material. The dangers of a 'dirty bomb' are probably greater than the threat of a nuclear missile from a rogue state. Accident is probably a greater risk than any military confrontation. As long as nuclear weapons states such as Britain refuse to accept their responsibility under international law to "pursue in good faith and bring to a conclusion negotiations leading to complete nuclear disarmament under strict and effective international control" (ICJ judgment 1996) other nations are entitled to a self-interested cynicism.
---
This year we are privileged to be invited to Brigitte's beautiful Arts & Crafts house for our annual get-together and New Year celebration. 28 Conway Road is tucked away at the end of a cul-de-sac but it is only a few minutes from Raynes Park station and the bus routes along Worple Road.
From Worple Road turn up Langham or Arterberry Roads and turn into Montana Road (to your right or left respectively): Conway Road continues uphill from Montana Road (about halfway along) and Brigitte's house (No 28) is at the far end on the left. Press the buzzer and announce your arrival! (Bring food, drink and music to share.)
Dates for your Diary 2012
Sun Jan 8th

New Year Party at Brigitte's 2·30pm

Sat March 24th

Book Sale at Community Centre 10am–2pm

Sat May 19th

Fête of the Earth 11am–3pm

Fri June 22nd

Barn Dance 7pm
---

White Poppies and Remembrance Day
This year we made a big effort to challenge the assumption that there is an inevitability about war and that the heroism of war is in some sense superior to heroism in any other context. It is a difficult message to get across because we need to take great care that what we say is not interpreted in any way as an insult to the tragic victims of the two world wars. "The best way to honour the dead is to work for a world in which war has no place" is the simple message conveyed by the Peace Pledge Union's white poppies and many of us wear red and white poppies combined.
We had a constructive discussion with local representatives of the Royal British Legion (and a rather less constructive exchange with rigid bureaucracy at Merton Council) and held a private ceremony at Wimbledon War Memorial after the Civic Ceremony had finished and all the uniformed youth groups had marched off down the High Street to be reviewed (in a thoroughly militaristic manner) by the Deputy Mayor.
Local actor Zulema Dene read the Preamble to the UN Charter ("saving succeeding generations from the scourge of war") most professionally and Alison Williams (Branch Secretary of Merton UNA) read "A Veteran's Lament" by 'Bill' (anonymous World War II veteran):
So here we stand again. A year has passed
Once more our sorrow turns to millions killed.
What have we learned?....
100 year old Mabel Cluer, who has the rare distinction of actually remembering the First World War, placed our beautiful red and white wreath on the steps of the War Memorial, and in a spontaneous gesture we decided to leave a copy of the UN Charter with the wreath in the hope that somebody would pick it up and read it.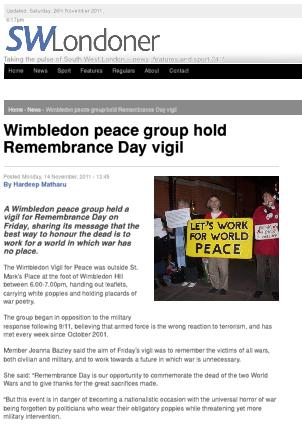 At the Vigil on the preceding Friday we had a special Armistice Day display of war poetry (chosen by Maisie Carter) and candles and white poppies, which was very effective and attracted a lot of attention from passers-by. We got good coverage in the online magazine SW Londoner.
Photos of both events can be seen on our website at http://www.wdc-cnd.org.uk/Photos/WhitePoppies/
We should like to thank the newly opened branch of the Britannia Building Society/Co-op Bank at 62, The Broadway, which sold white poppies for us in the week before Remembrance Sunday and raised £13.
---
In the New Year (16th February–1st April 2012) the Tricycle Theatre, Kilburn, is staging a new season of plays in two parts ("The Bomb: a partial history") with a powerful anti-nuclear message. First Blast covers 1940–1992 and Second Blast 1992–2012. Each evening will show work by several authors (Lee Blessing, Zinnie Harris, John Donnelly etc.) and the whole sequence can be seen on consecutive nights, or an afternoon and evening over the weekend.
We have made an advance 'Early Bird' block booking at considerable saving and there are still a few seats not yet spoken for, so get in touch as soon as possible if you are interested in joining our party on Saturday February 18th (3·30pm with a break for a meal before Part 2). Otherwise contact the Box Office to make your own arrangements: The Tricycle Theatre, 269 Kilburn High Road, NW6 7JR (Box Office 020 7328 1000) http://www.tricycle.co.uk/festivals/the-tricycle-goes-nuclear/
---
Poetry for Peace
Two WDC/CND poets have recently used their talents in aid of the campaign. George Marsh entered the recent Colliers Wood Poetry Slam with his peace poem "The Innocents" (previously printed in the Newsletter October 2009 and July 2007). He was gratified to be awarded a high grade (8/10) although the winner (an experienced poet) received full marks from all three judges. George writes: "The reason I entered was to make a comment against nuclear weapons and racism" (exploiting the opportunity given to all entrants to introduce their work at the microphone).
Pat McManus had a poem accepted in the Poetry for Peace contest organised through the Internet by the United Nations office for disarmament affairs. For four weeks the world was invited to hear the testimonies of the Hibakusha (atomic bomb survivors) and respond to their stories in verse. People were also encouraged to 'like' the poems that most touched them.
"Throughout the month-long competition 741 poems were submitted, some echoing the pain of the survivors, others calling for nuclear disarmament and almost all crying out for peace," writes Pat, whose poem did not win but was much 'liked'. http://www.un.org/disarmament/special/poetryforpeace/
Future Perfect
by Patrick McManus
once they
had guns
and weapons
and things
but now
they are
all rusted
fallen apart
collapsed
turned to
dust
gone
---

Nuclear Power and Hinkley C
WDC/CND has affiliated to the campaign against plans by the French company EDF (Electricité de France) to build the first new nuclear power station in Britain for over 20 years at Hinkley Point on the Somerset coast. It is important to local campaigners to have as large a membership as possible to show the strength of feeling against nuclear power not only in the Southwest but all over the country. If anybody wants to join as an individual, subscription forms can be found on the Stop Hinkley website http://www.stophinkley.org together with a petition and a sample letter to Secretary of State Chris Huhne.
The West Somerset Council has granted planning permission for major pre-construction works even before EDF has received approval for the power station itself — a decision which will be challenged in the courts by Stop Hinkley if funds can be raised.
It does seem ironic that the Southwest with its magnificent marine resources (wind, waves and tides) should have been chosen for this venture.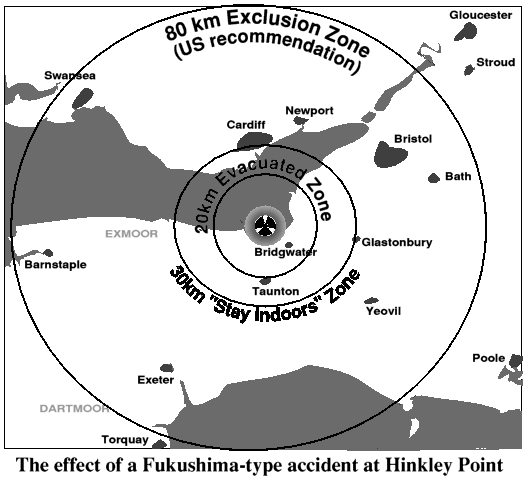 ---
Subscriptions
Many thanks to all who have already paid — about half of you. If your sub is still outstanding a reminder slip will be enclosed with this Newsletter — £5/£3 please, cheque payable to WDC/CND and sent to Julie Higgins, 129 Chestnut Grove, London SW12 8JH.
---

Return to Newsletter index