COMMENT: "Pity the nation..."
I had been abroad since 7th June, and had scarcely opened a newspaper. Imagine my astonishment as I walked through Waterloo station on 14th July and saw the screaming headline "Slaughter of the children" over the name of Robert Fisk: one of our most reliable foreign journalists writing from Beirut, about this new war — Israel versus Lebanon — then in its second day.

So I bought a copy of "The Irish Independent", the newspaper in question, and my horror and disbelief grew. Israel, I read, had been bombing and blockading Lebanon for the previous 24 hours. The journalist described hearing from his home the jet planes as they came in high above the Mediterranean at dawn — to drop their initial death-delivering bombs, which had fallen on a small south Lebanese village, wiping out two families completely: a Muslim cleric, his wife and eight children, and another family of seven. How would we have felt if such an action had taken place over some small town in Kent or Essex?

The aircraft had then gone on to incapacitate Beirut's brand new airport as passengers prepared to board early morning flights to London or Paris. Rockets had ripped up the newest runway, and an Israeli gunboat moored just offshore had shelled other runways, as part of a blockade surrounding the port of Beirut. Passengers had unsurprisingly fled from the airport.

This attack on Lebanon constituted a massive onslaught on a country which had suffered repeated civil wars and invasions from the 1950s right up until the year 2000; a troubled country the size of Wales. Here Terry Waite among many others had been captured and imprisoned, and yes, even tortured. Of course there had been an excuse for this latest flare up — the capture of two Israeli soldiers by the rebel group Hizbullah operating inside Lebanese territory. But how could this be deemed sufficient justification for the immensity of the retaliation which had followed? The Lebanese poet Kahil Gibran (quoted by Fisk in his book on Lebanon first published in 1990) had written "Pity the nation that acclaims the bully as hero, and deems the glittering conqueror bountiful. Pity the nation divided into fragments, each fragment deeming itself a nation".

The next day Israeli jet planes had destroyed the centre of a recent Italian-built bridge that had spanned a great valley in the centre of Lebanon. This structure had been a symbol of the country's fresh start — of a new co-operation with the European Union. But its destruction caused a breach in the international highway which had joined Beirut to Damascus. And so the attacks have gone on — broken bridges, destroyed power stations, roads full of holes, shelled apartment blocks, innocent civilians, children and adults alike — killed or injured by the dozen. Jacques Chirac, French President, commented "One could ask if today there is not a sort of will to destroy Lebanon".

Thousands of people in this country are now asking themselves — "Is there any difference whatsoever between this and similar acts of of aggression and destruction which the USA, backed up by Tony Blair in the name of our country, has inflicted on the nation of Iraq, not once but twice in the last dozen or so years?"

Where we have led, others have all too willingly followed, to our eternal shame.

Barbara Bampton
---
Demonstrate! Labour Party Conference, Manchester Saturday 23rd September
This is a joint CND/Stop the War event with a triple theme:
No Trident Replacement

Troops home from Iraq

Don't attack Iran

A huge presence in Manchester on the eve of the Labour Party Conference will generate maximum media publicity and put great pressure on Tony Blair and the Labour party. We shall be there with our Wimbledon banner, having booked a block of seats on the special train organised from London by the Stop the War Coalition.

Outward journey:

depart 8am London Euston

arrive 12·20pm Manchester

Return journey:

depart 6pm Manchester

arrive 10·20pm London Euston.

Tickets cost £35 return but WDC/CND has decided to offer subsidised travel to anyone for whom the full fare is a hardship. Please book your seat with us as soon as possible. Contact 020 8543 0362 or info@wdc-cnd.org.uk.
Defence Committee Enquiry into Trident Replacement
This is the second phase of the Trident enquiry and is entitled "The Future of the Strategic Nuclear Deterrent: the UK manufacturing and skills base". Fourteen M.P.s will consider "the level of investment needed to sustain essential infrastructure and core skills in the UK submarine construction industry" and examine the Government's investment programme at the Atomic Weapons Establishment, Aldermaston, i.e. "the extent to which the level of that investment is consistent both with maintaining key skills and infrastructure in the design and manufacture of nuclear warheads and with the stewardship of the UK's existing warhead stockpile". They will thus "consider the linkage between the Government's Defence Industrial Strategy and the decision on retention, replacement or abolition of the UK's Trident system." It is encouraging that the abolition of Trident is being formally considered (as well as retention or replacement) but disappointing that there is no clear intention to investigate whether investment at AWE Aldermaston is in fact the best way to meet the UK's security needs, or indeed whether the military field offers the best use of UK nuclear expertise.
These points could be made in your submissions, but material which falls outside the committee's strict terms of reference will not be considered.
Write to: Clerk to the Defence Committee, Sheryl Dinsdale, Committee Office, House of Commons, London SW1A 0AA, or e-mail to defcom@parliament.uk (including a contact name, telephone number and postal address) by Monday 2nd October.
---
Merton Council, Safer Merton, the Police and others are putting together a week of peace-related activites from 10th–17th September. This will be the first time Merton has taken part in this annual London-wide event which aims to "engage all who live or work in Merton in creating a peaceful and vibrant community". Activities and events are intended to foster "community cohesion", celebrate diversity, and promote justice, equality and respect. The week culminates with a Faith Walk on Sunday 17th September (starting 12·30pm at the Wimbledon Mosque on Durnsford Road and visiting various places of worship around the Borough) organised by Merton Interfaith Forum. A decorated 'peace tree' at Morden Baptist Church will offer an opportunity for individuals to contribute personal messages, or these can be left in a special post box in the Civic Centre foyer.
While we are glad that Merton has chosen to participate this year, we are somewhat disappointed that Councillors have chosen to interpret the theme so narrowly. WDC/CND had hoped to host a discussion event, perhaps based around the excellent "War no More" video produced by the Movement for the Abolition of War, but this was deemed too "political".
Meanwhile we are of course welcome to participate as individuals (wearing our CND badges!) and further details can be obtained from Diversity and Community Engagement Officer Kim Parry (020 8545 3532 or kim.parry @merton.gov.uk). For background see http://www.peacealliance.co.uk
P.S. We are going ahead with our discussion event but not under the ægis of Peace Week. (14th September — details in Diary).
Parties for Peace
The Bedford in Balham is fast developing into the premier South-west London left-wing 'peace club', thanks to the generosity of the management and the hard work and enterprise of Wandsworth Stop the War Coalition. All performers donate their talents (jazz, soul, blues, folk, rock, pop and poetry) and hundreds of pounds are raised on each occasion, thanks to a loyal and supportive audience drawing widely from the local community. Our CND stall is much appreciated (and is a good way of contacting lapsed national members).
The next dates are 1st October and 26th November. Doors open at 7·30pm, and by sending in your name for the advance notice list you get substantially reduced admission. Contact Isobel [mcmillan28@tiscali.co.uk or 020 8675 4744].
Letter from Wimbledon M.P.
Stephen Hammond M.P. has asked that we publish the following letter:
House of Commons, London SW1A 0AA

5 July 2006

Dear Mrs Bazley,

I received your latest Wimbledon Disarmament Coalition newsletter this morning. I was somewhat surprised at your remarks about myself. Certainly our recollections do not coincide and as a politician I often take a moral stance. Indeed your parting remarks were of praise for my considered responses!

I trust you will publish this reply in your next newsletter.

Yours sincerely,

Stephen Hammond MP
We have offered Mr Hammond an unreserved apology and removed the offending passage from our website.
---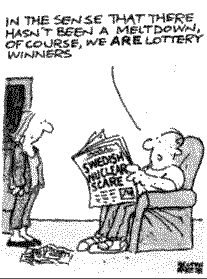 We have been warned
Even as giant nuke companies manœuvre to secure British power station contracts, at least one rich country is having second thoughts. Half of Sweden's nuclear reactors are shut down, after a security scare at the Forsmark plant, 125 miles north of Stockholm, when two back-up generators failed to work during a power failure. The two other generators were enough to avert a meltdown, but one expert was scathing. "It's a bit like a lottery," said Lars-Olov Hoglund, an engineer involved in the construction of the plant, adding it was nearly as serious as the 1986 accident at Chernobyl. Four other reactors have been shut down as a precaution.
The Guardian, 6th August 2006
Lions Club Fair
Strong winds and torrential rain presented a tough challenge to our stall-holders in Morden on August Bank Holiday, but the sun did shine in between the showers and although visitor numbers were down we took a respectable £139. Transport and assistance were provided by John, Brian, Julie, Joanna, Maxi, Maisie, Margaret L. and Margaret E. Thanks to you all.
Hiroshima at Sidmouth
The Hiroshima Commemoration at Sidmouth has now become part of the annual Folk Festival and has continued to attract wider support from local people, holidaymakers and folk singers/celebrities who regularly attend. This year did present some difficulties as Hiroshima Day fell on Sunday, less than twenty-four hours after our arrival in Sidmouth, leaving little time for the usual publicity arrangements. So special measures were taken!
Some week before, we contacted the organisers to make sure that an announcement went into the first Newsletter; we contacted some well-known folk singers, musicians and other entertainers; we contacted the stalwart attenders and participants, to check that they were prepared; and most importantly, as it turned out, we made contact with a wonderful couple of young people who took flyers in advance and got them posted around the town. We had a very positive response from Sandra Kerr, well-known and very popular folk singer, whose response to my first e-mail was "I'll be there!", and from the equally well-known and popular singing group Coope, Boyes and Simpson, who agreed to sing at the event. Where possible, given the very little amount of time after our arrival, we leafletted venues and persuaded presenters to announce the commemoration. What was absolutely fantastic was hearing one of the presenters, Barry Coope, address about a thousand people at the beginning of his spot in the Saturday concert, saying "I have a very important announcement to make. Tomorrow is Hiroshima Day and I hope you will join us in commemorating the event at 1·30pm outside this marquee."
With such support and backup it was not surprising that we had a record attendance of over seventy people, who listened, sang and expressed their appreciation afterwards that we continued to demonstrate, not just our sadness at the horrific events of Hiroshima and Nagasaki, but our opposition to all nuclear weapons, our determination to campaign against the renewal of Trident and increase our effort to achieve peace and justice in the Middle East.
Maisie, Helen and Julie
Candle-floating on Rushmere took place on a perfect summer's evening on August 6th and we were joined by a number of local Quakers (who have promised to teach us to make origami boats for next year).
---

Return to Newsletter index